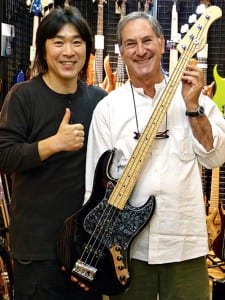 Roger Sadowsky is one of the most highly respected instrument makers in the world. His instruments are played by many of the world's greatest artists including guitarists Jim Hall, John Abercrombie, Pat Metheny, Lee Ritenour, Chuck Loeb and bass players Marcus Miller, Will Lee, Rickey Minor, Michael Rhodes, Verdine White and Jason Newsted.
As the Sadowsky legend grew, so did the overwhelming demand for these exceptional instruments that continues to this day. With wait times for custom Sadowsky NYC instruments that can stretch to a year and prices for custom features that can overextend a budget, Roger looked for a solution that would more quickly and affordably make the legendary Sadowsky Bass available to the working musician.
Roger's solution to this issue is not accomplished with sacrifices to craftsmanship, quality, precision, feel or sound; it is primarily accomplished by standardizing certain options and producing instruments in a more cost-effective environment. The result is the Sadowsky MetroLine.
Sadowsky MetroLine basses are produced by Roger's personally trained protégé, Yoshi Kikuchi, in Tokyo, Japan. A superior craftsman in his own right, Yoshi moved to New York for a year to learn the art of the Sadowsky Bass at Roger's side. Yoshi then assembled a small group of Japanese craftsmen and opened a studio in Japan under Roger's supervision. As a result, Roger is able to deliver the legendary Sadowsky Bass more immediately and more affordably to you, the working bass player.
Your Sadowsky Bass is ready Today.
Your long wait time is over and the Sadowsky bass is now more affordable. With many competitively priced models to choose from, Roger takes the most popular features of his legendary NYC basses and makes them available to you immediately. Best of all, Roger personally stands behind each and every MetroLine bass with his exacting standards of quality, performance, integrity and service. We invite you to contact us and arrange a time to come in and get legendary Sadowsky Bass where it belongs today – in your hands.
CURRENT STOCK